Established in 2002, we are a small team who produce bespoke exhibition and trade fair stands.
With a collaboration of minds between the team and the clients, we design each stand according to fit the client's vision.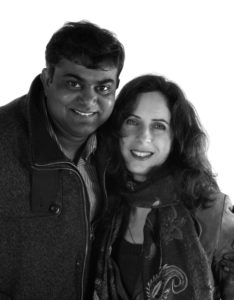 Apart from being an excellent visual artist and painter, Subhash has had graphic design and printing experience since graduating in the early 90s. Having lived in India and Australia, in the late 90s he moved to London and worked for large media companies as a production and studio manager prior to starting Artistic Visions.
His expertise lies in graphic design, 3D visualisation to view the finished product before the creating stage, and has years of  experience designing and building exhibition stands. His favourite pastime is building his pond in the backyard.
Natalie has previously worked as a designer in the publishing industry and brings her experience to running the business side of Artistic Visions as well as helping out in the workshop. She spends her spare time creating illustrations, gardening and doing the washing up.